Marketing Glossary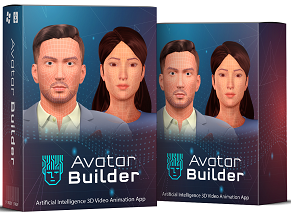 Tomorrow, Paul Ponna is releasing new software that is a major step forward in video creation: Avatar Builder.
This new video creation tool will let you take advantage of 3D Animation, Artificial Intelligence, and soundtracks in any language to create animated explainer videos that are unlike anything you have ever been able to create before.
Beginning tomorrow, you can build videos with natural-looking and natural-sounding 3D animated presenters who can sell your products in virtually any language of the world.
Besides changing the language spoken by your presenter avatar, you have total control over other customizations. You can change the colors and look of clothing, hair, skin, accessories. You can select from a wide variety of props such as eyeglasses, shoes, watches, vests, and more for unlimited design possibilities.
What you create with this software will be totally unique, unlike any other person's videos.
You may wonder why we are mentioning the launch a day early. Well, to kick off the launch, Ponna and his partner, Sid Diwar, are planning a special introductory webinar to unveil Avatar Builder.
To make this webinar extra-special, they are offering people who attend special incentives:
➤ 20 copies of Avatar Builder will be given away.
➤ 10 $100 Prizes will be handed out to webinar attendees.
➤ Other Bonuses will also be distributed.
➤ A Facebook Group that will give you access to $3000 in additional rewards.
➤ Step-by-Step Training.
➤ Live Avatar Builder Case Studies and a Demonstration.
There is one limitation. The webinar has only 1,000 seats available, due to a limitation of the webinar software. You need to sign up now to make sure you can get a seat. Ponna is a well-known product developer so the webinar will attract a lot of attendees.
You could win one of the prizes, but only if you attend, because they will be awarded during the webinar, to people who are on the webinar.
Avatar Builder is an advanced artificial-intelligence powered video maker that transforms any text or audio clip into Disney-style 3D computer animated videos in any language of your choice automatically, in just minutes.
No longer will you need to hire expensive actors, announcers, or voice-over artists to create your marketing videos.
Remember, only 1000 seats are available, so register now for your place in the webinar: : Avatar Builder. Attendance is free.