Marketing Glossary
What's something that almost every video, commercial, and sales video, needs?
Answer: Narration. They need human voices to read scripts, explain concepts, and keep viewers engaged. The problem is cost.
Voiceovers are expensive. Go on the freelance sites, and you'll find that you can end up paying a lot for your voiceover.
One highly rated voiceover provider charges $200 for 100 words, and $25 for each additional 1 to 100 words. An average 5 to 6 minute video has around 1,000 words, that would cost $425!
So we need a better solution, one that is affordable for all of us, and doesn't requires us to become a voice actor, ourselves.
Voice Studio FX is that solution. It can turn any text into a realistic human-sounding voice in just 3 easy steps:
Step 1: Log in and pick your voice (there are 12 to choose from)
Step 2: Type or paste your text into the box
Step 3: Click the Synthesize button and your voiceover is ready to download in seconds
It's that easy!
Many earlier apps spit out awkward robotic speech that will turn off your viewers and visitors. You won't believe your ears when you hear what Voice Studio FX can do. Each voice sounds so real, you won't be able to tell the difference.
And here's the best part:
While other apps make you pay each month, or even buy credits each time you want to do a voiceover, you pay once with Voice Studio FX. You get up to 30,000 credits in your account, and then they put the same amount in your account next month. And the month after. And the month after.
During the launch, you can have a lifetime of voiceovers for a single payment.
It is any good? Listen to it narrate this ad. (We created this audio without reading the instructions.) Then YOU decide.
Get your copy for the lowest price, here: Voice Studio FX
Paul Ponna has released his latest video tool, VideoCreator.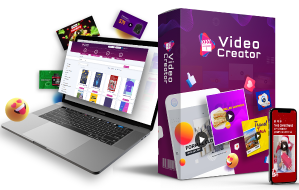 This new SaaS application comes loaded with first-to-market (i.e., never seen before except in Hollywood and Fortune 500 corporations) video technologies:
* Local Business Videos featuring Real Human Actors
* Pattern-Interrupt Scroll Stoppers
* 3D Video Flipbooks
* Big-Budget Corporate-style Commercials
* Profit Boosting 3D E-commerce and Product Demos
* Immersive 360 Degree Animations
Imagine creating big-budget animated videos like the Fortune 500 companies and doing it without any expensive freelancers, complicated apps or high-end video equipment.
Better yet, imagine selling videos you create for a hefty fee.
All that is possible, starting now, with VideoCreator.
For simplicity, there's no longer any need for multiple apps. This new software has been designed so that you can create any style of video from one simple dashboard:
✓ Explainer videos,
✓ Animated videos,
✓ E-commerce videos,
✓ Logo reveals,
✓ Videos for social media,
✓ Whiteboard videos,
✓ Live action videos,
✓ Real estate videos,
✓ Video ads,
✓ Animated videos and,
✓ A whole lot more.
Check out this software at work:
VideoCreator is unlike anything you have seen before because it can create world-class videos in all sizes, languages and topics.
Whatever you are marketing, it can give you the video you need.
On top of that, you can sell your video services on freelance sites because you receive a commercial license.
With VideoCreator, you can turn your ideas into hyper realistic next-gen animated videos in minutes.
Ponna promises that anything you can imagine you can create in minutes from the dashboard. Forget any other video software you have.
Here are the 3 easy steps:
1. Select from an ever-growing library of hundreds of professional video templates from all of the trending topics and categories.
2. Customize with your selection of images, videos, and text.
3. Render spectacular animated videos in minutes with zero technical experience.
This is a perfect choice for e-commerce sites, authors, realtors, local businesses, freelancers, affiliate marketers, Bloggers, Teachers, or anyone else looking to create videos faster and easier than ever.
Don't delay; the price is rising.
We have collected a set of impressive bonuses for our readers who invest in this new video creation tool: : Video Creator Bonuses for IM NewsWatch Readers.
These bonuses are worth more than the small investment required to get started (during launch week, especially.)
Don't delay. There is an early bird discount, but the cost is rising soon. Get your copy here: VideoCreator.
Why VidScripto was created
As you may know, YouTube, by default, allows you to use one of its videos on your website. The video creator can prohibit this, but most videos are available for you.
There are many apps and plugins that assist in setting this up on your site. But they all have a major limitation, the video is in the original language only.
But that overlooks a far larger audience than you can address with only your original language. For example, the United States alone has the second largest Spanish-speaking population in the world, after Mexico. And with nearly 900 million Chinese, 400 million Spanish, 240 million Arabic, 170 million Portuguese, and 150 million French, and so many other language speakers online, you are missing a big chunk of traffic to your videos & sites.
Wouldn't it he helpful if you could use a video originally in English and, translate it into the [different] language (or languages, plural) spoken by your target audience?
And, while we are at it, it would be helpful if the translation could be:
• In the spoken narration
• In translated subtitles,
• Printed as a transcript
And, for good measure, how about modifying the size and shape to match the varying requirements of the social media where you want to post it?
That's why VidScripto Pro was born.
It is a First of its Kind AI-powered app that automatically transcribes, captions, and adds a voice-over to any video, so that you get more followers, likes, comments, shares, leads, and paying clients.
It creates transcripts in 32 languages, does voice-overs in 30 languages, and creates subtitles in a whopping 74 languages (see which ones, here: VidScripto Languages
And, it's flexible:
• It can create and post existing viral videos in different languages on Social Media to engage viewers to take action.
• It can create transcribed, translated and foreign language speech for any video on any website in any niche.
How to use VidScripto to build your business
✓ Use the translated videos on your website or social media
✓ Turn the translated text (you get a transcript) into a document or video to use as a lead magnet.
✓ Use the transcript to record the message in your own voice
✓ Easily convert videos into blog posts, podcasts, audio books, or e-books.
✓ Set up a business in transcription and translation
VidScripto Bonuses for IM NewsWatch readers
We have arranged for a useful collection of bonuses, shown here: VidScripto Bonuses.
VidScripto Launch Schedule
The launch introductory pricing structure ends on April 12 at midnight. Until then, the price will be gradually rising. It has already risen in price 3 times.
So, there's no time to waste. For the best price, go here now: VidScripto Pro.
With the pandemic changing education for both children and adults, and with many adults losing jobs and needing to be re-trained for new jobs, the e-Learning industry is seeing unprecedented growth.
A lot of people are looking at upgrading their skills and/or learning new things while they are stuck at home.
As a result, there are many educators creating video lessons for their students. Some of these are online videos; others are downloadable lessons.
Educators and content experts who want to sell their training online need a website to sell from. On this site, they need videos (training videos, sales videos, or both).
These trainers also need funnels, so that when a student buys (or completes) one course, they can be offered the next course in the curriculum.
They need software that will help them set up their curriculum and offer it to their students in a productive and psychologically appealing way.
You can provide them the solution they need with Video Agency Funnels, just released by the Mario Brown team..
Here's a glimpse of this new software can do for you as you serve your clients:
• It lets you offer an entire range of services that every business or teacher/ trainer needs.
• It lets you create and sell powerful Sales Funnels, Landing Pages & Video Marketing Campaigns in just a few clicks.
• You can use & customize one of its Done-For-You templates to target the hottest niches for online content.
• It includes ready-to-sell templates including a complete set of websites, landing pages & videos.
• It has a built-in Checkout & Payment Collection System for hassle-free check-out.
• You are getting a Done-For-You Agency Website where you can offer your services.
• It is hosted in the cloud so there is nothing to download or install.
• A Commercial License is included that lets you support as many clients as you want.
• And a lot more.
And that's just the beginning. Check out a full demo here: Video Agency Funnels.
This new online tool is powerful enough for experienced marketers and, at the same time, simple enough for complete beginners.
It Works In 3 Simple Steps:
Step 1: Pick The Website, Funnel or Video Template You Need
Step 2: Customize It Easily & Quickly For Your Client
Step 3: Publish It and Collect The Payment
In just minutes from now you can have your own professional website to start selling high-ticket development services to would-be online marketers.
From your site you can offer:
• Stunning Business Websites, based on templates you can customize for a unique solution for each client
• Professional videos, based on templates you can customize
• A unique Client Revenue & Profit Forecasting System to allow your clients to predict their costs and their revenue.
And when you get access right now, you also get:
✓ Exclusive Bonuses t build your online success
✓ Commercial Licenses for all the videos, sites and funnels you create, allowing you to offer them at whatever fee you choose.
✓ A heavily discounted one-time price.
We have arranged a collection of bonuses for IM NewsWatch readers that will help you build your business with this new tool. Check them out here: Video Agency FunnelsBonuses
But you need to hurry. Brown is only holding this launch offer open through Friday, and each day the price rises a little, so don't delay. Grab your copy before this special deal expires: Video Agency Funnels.
Do you know how to build a funnel? I mean, practically. Step by step set up sales pages and properly link them together so the visitor is taken systematically through your buying process, starting with the introductory product all the way through the final upgrade.
With Video Agency Funnels, the new funnel builder just released by Mario Brown, it's a snap:
1. Login: Login to the web-based app and choose what kind of funnel you'd like to create (product launch, evergreen, opt-in page, webinar funnel, etc.)
2. Choose: Choose from the many DFY Agency funnels and create your funnel in minutes, or (if you wish) create your funnel from scratch and use any of the included 100+ local niche templates to create your own funnel.
3. Edit and Publish: Edit the pages with its friendly drag and drop editor. Then hit Publish. That's it. You're done.
Use this new tool to build funnels for your own products. Or, if you are a marketing consultant or operate a marketing agency, build funnels for all your clients.
Most local business have no idea what a marketing funnel is; much less, how to build one. This is a service they need. With Video Agency Funnels, you are in a position to offer this service and help them build their business.
With the included niche-specific templates, you can offer your services with confidence that you can deliver on time.
These are not "bare-bones" funnels; you can add videos to them. They are designed to make that a natural component.
Here's another benefit of Video Agency Funnels: A/B Testing. Show two versions of the same web page to different segments of website visitors at the same time. See which variant drives more conversions.
Now you can create attractive websites, funnels, and Videos in minutes, even if you are a beginner with no technical or marketing skills.
You are getting hundreds of templates for web pages and videos. Brown says you will happily find that they are proven to convert visitors. And that they are designed for just about any local niche your clients want to market to.
We have arranged a collection of bonuses for IM NewsWatch readers that will help you build your business. Check them out here: Video Agency FunnelsBonuses
Brown plans to keep this launch (with its one-time price) open until midnight Friday. He has raised the price once already. (The coupon VAF2 will help.) Don't wait. Get started here: Video Agency Funnels
If you haven't already snapped up your Vidnami 40% OFF Discount, your time is running out.
Because Vidnami reverts to the regular retail price, and your 40% lifetime saving will be off the table at midnight EST.

Click here to grab this special offer now: Vidnami Flash Sale.
If you've been searching for a quick and easy way to create professional Presenter Style videos for your business, now is a great time to join the rapidly growing Vidnami community.
Remember, right now you can grab a massive 40% OFF Discount on this powerful video creation software and get the Video Marketing Bonus Pack at no extra charge.
Just to be clear, here's what you get if you join today:
All things considered, this special offer delivers an incredible value, and all you pay today is just $29/m.
But this Flash Sale expires at MIDNIGHT tonight, and the clock is ticking.
So click here to grab your 40% OFF discount now while you still can: Vidnami Flash Sale.
VidSnatcher 2.0 is the best Camtasia alternative out there, and it has quite a few features that even Camtasia doesn't have.
It is a winning solution for explaining products and for training people on any topic because it was designed specifically for these two purposes.
Why you need Vidsnatcher 2.0
► It is low-cost, hundreds of dollars less than Camtasia.
Plus, there's special low pricing during the launch
► It is in the cloud.
There's nothing to install.
► Mobile Recording
VidSnatcher 2.0 records videos with any mobile device plus IOS and Android Screen Capture recording.
► Automatic Mobile Uploads
Mobile recordings are instantly ready for editing in your dashboard.
► Voice Recorder
Record and import any audio directly into VidSnatcher
► Text-To-Speech Engine
Instantly turn your text into a life-like male or female voice.
► Powerful Editing
Complete editing capabilities such as trim, undo, redo, copy, cut, paste, crop and more.
► Screen Capture
You can ​record your screen and import it directly into VidSnatcher 2.0.
► Hollywood-style transition effects
Now you can create captivating videos with seamless transitions.​
► Language Translator
Translate any text-to-speech language into a different language with appropriate accents in the new language.
► Easy Green Screen Removal
You can remove the green screen from any video with just a few clicks.
► DFY Niche Video Templates
Includes instant access to 10 high quality done for you templates with commercial rights
Check it out now. Use coupon code: vs2eb for an earlybird discount, here: VidSnatcher 2.0.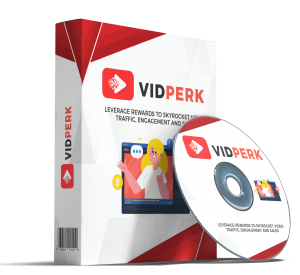 VidPerk is designed to make sure people watch your videos to the end.
Why? Because marketers have learned that if people watch your video, really watch it, you are much more likely to get a sale.
When your video retention is low (i.e., when most people don't watch your whole video):
➤ You drop in rankings, and no SEO strategy will overcome the drop.
➤ You waste your time creating videos that no one watches.
➤ You don't get sales.
➤ Your videos cannot go viral.
➤ You are not being taken seriously by anyone.
➤ Your engagement with your visitors is low.
And that's just the tip of the iceberg.
On the other hand, when your video retention is high, you
will see important benefits:
➤ Higher rankings because Google sees your videos helping people
➤ No need to create a perfect video; even simple videos sometimes make millions and that's a fact.
➤ You make many more sales than you would with low retention.
➤ You have much more chance of going viral vs. having a low retention rate
➤ You seem like a more established and serious marketer
➤ You get a lot more time to present the value of your offer.
➤ Your engagement is much greater, which drives rankings and sales up, and also customers feel more comfortable buying from you.
So how do you improve your video retention?
Well, with VidPerk, it's as simple as a few clicks, and you are done,
❌ Without changing your strategy,
❌ Without working extra,
❌ Without changing your business model.
The whole idea of this new tool is simple. Offer your viewers an incentive to watch your video. You choose the incentive, which could be a download, a discount code, or even another video.
VidPerk is SaaS software that enforces the need to watch the video and shares the incentive when the viewer does watch it.
It's a simple process to tell VidPerk the video to process, the link to the incentive, and how long the viewer must watch to earn the incentive.
We have arranged a collection of bonuses that you will receive, shown here: VidPerk.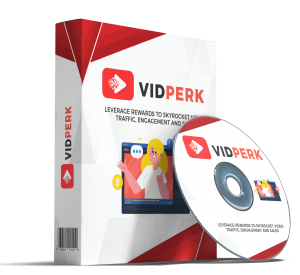 Your videos, no matter how good, won't sell anything unless people watch them. VidPerk, just released by Tom Yevsikov and Gaurab Borah lets you give people a reason to watch till the end.
This new tool lets you easily offer a coupon code, a download link, or any other digital incentive to viewers who watch until the end (or any point in the video you select.)
Most people watch just a few seconds of a video before clicking away (on average less than 3 seconds, according to Marketing Magazine). You won't make much of an impression in 3 seconds.
If people would watch your whole video, your conversions would naturally rise dramatically. Besides that, more people would share your video if they actually saw it, understood it, and benefited from it (and that takes longer than 3 seconds.)
VidPerk uses the power of a reward to attract people to play your videos and keep watching all the way through without skipping or pausing.
On their sales page, they use their software. We watched their video all the way through because they offered us a discount for watching till the end. Besides the discount incentive, the additional selling time they got was a second reason they are selling more.
How to use VidPerk
VidPerk works in 3 simple steps:
1. ADD YOUR VIDEO
Add any video into your SaaS tool. It could be a YouTube link, Vimeo link, or any mp4 link of your choice.
2. PERKIFY YOUR VIDEO
Select one of the Done For You templates, add a reward, enter the length of time the viewer needs to watch.
3. PROFIT FROM YOUR VIDEO
Copy the code created by the tool, then paste it into your website. Instantly it increases your video traffic, engagement, and sales with no more effort.
You can just turn your existing videos and those you create in the future into traffic and sales machines in just a few minutes.
We have arranged a collection of bonuses that you will recieve when you invest in this new tool here: VidPerk.
If you create marketing videos or customer support videos with VideoMakerFX, Explaindio, VideoPal, VideoAppSuite, VideoBuilder, Camtasia, or any other video tool, you need a convenient way to show them to clients and other visitors.
This is a service that is in high demand. ViidCloud makes it easy to set up and market your own video hosting service, as well as setting up private hosting services for your clients.
Think of all the businesses that need video hosting:
⊕ Information Sellers,
⊕ E-Com Sellers,
⊕ Business Coaches,
⊕ Affiliate Marketers,
⊕ Lead Generation Agencies,
⊕ Digital & SAAS Product Sellers,
⊕ Local Business Owners,
⊕ Freelancers,
⊕ Agency Owners,
⊕ and many more.
Now you can have a solution to their problems by hosting their videos for them.
To use ViidCloud, you just need three simple steps:
1. UPLOAD: Upload your clients' videos on your dashboard. Automatic optimization makes it a quick process.
2. CUSTOMIZE: Customize the video player and add built-in marketing tools within the videos. Add clickable affiliate links, forms & buy buttons inside their video.
3. HOST: Publish their HD videos within seconds. You can also embed channels and playlists onto any landing page or website.
Watch how videos can influence profits in this demo: ViidCloud.
This new software solves multiple issues your clients (and, perhaps, you) are wrestling with:
➤ Now you can keep your client's traffic in-house with 100% control of their videos and having no outside commercials or recommendations interrupt their video.
➤ Lightning Fast Videos for the best user experience in addition to quality overlay animations to get the best number of clicks and best engagement for your clients.
➤ This new tool turns their video into an instant GIF, resolving the auto-play issue, which will provide more views.
➤ With optional upgrades, you can capture leads, insert Calls to Action in videos, integrate a favorite autoresponder, and other marketing bumps to generate more leads and sales.
➤ It has built-in professional Business Landing Pages for Restaurants, Contractors, etc. You can sell them to clients for a bigger project (with a bigger fee.)
Online video is growing daily. With ViidCloud, you can help it grow. People are finding so many uses for videos (all needing hosting):
■ Sales Videos & VSLs,
■ Client Prospecting Videos,
■ Product Demo Videos,
■ Training Videos,
■ Affiliate Review Videos,
■ Customer Support Videos,
■ Members Videos, and more.
Right now, during the launch, you are getting the commercial license at no extra cost.
Plus you get powerful bonuses to get you up and running quickly.
And, during launch, there is a heavily discounted one-time price. Get it here: ViidCloud.