Zapable creates an app in 60 seconds #ad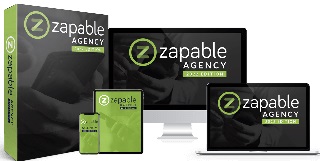 Longtime readers will remember Zapable ads in past years. There is a new version just released and the creators (Chris Fox and Andrew Fox) are holding a sale through Sunday night for anyone who didn't acquire it in the past.
Zapable taps into what the Fox brothers call "the fastest-growing revenue stream in history."
It is even more valuable now than when the first generation of this tool was released 6 years ago.
Here's why. A website used to be all you needed to attract customers and make sales. But the market is changing, and if you don't have an app, you're missing out on untold thousands of dollars in revenue.
In fact, by 2023, apps will generate over 1 trillion dollars in revenue. That's amazing growth over the last 6 years.
Now, imagine if you could design an app in less than 60-seconds and do it without a bit of programming experience and use it to build a profitable e-business for yourself.
Even better, what if you could build apps for other businesses? These apps will be critical for the success of all businesses, and business owners are just beginning to wake up to this issue.
With the new 'point-n-click' app builder by Zapable, you can do both.
It includes:
➤Unlimited access to the propriety 'point-and-click' app builder with over 30 features so you can build custom apps with ease.
➤Five fully customizable app templates working right now in the hottest markets
➤Five done-for-you agency videos with regional voiceovers plus landing pages and swipe files.
➤A Client Acquisition Guide to help with pricing, negotiation, and crafting the perfect product offerings.
➤Access to an active community of app builders ready to answer your every question.
You get it all with Zapable.
By the way, you really should think about app-making as a business. It's a simple process with Zapable.
Businesses are terrified of getting closed down due to loss of revenue during the recent pandemic and are scrambling to get their own mobile app fast.
Now you can build amazing mobile apps within minutes using 'drag n drop'.
You can do it:
❌ Without spending thousands
❌ Learning to code
❌ Hiring a team of developers.
Zapable allows you to create professional 100% customized apps with a push of a button.
The Zapable team is throwing in a lot of extras to help you build a business with Zapable, including:
✓ 5 fully customizable app templates for ultra-hot industries screaming for mobile apps.
✓ Done-for-you agency videos and voiceovers so you can start promoting yourself and selling your apps immediately.
✓ 5 high-converting landing pages ready to pull in clients.
✓ A quick reference client negotiation card for stress-free negotiations that earn you top dollar.
✓ Highly targeted email swipes to engage potential clients and make sales with ease.
✓ Plus a whole lot more…
And the fast action bonuses can still be claimed:
⚡ Full Access to iTaggz Agency Edition (Value $497)
⚡ Full Access to Hyper Funnel Formula (Value: $696)
⚡ They say that they also are including over $19,213 of value for the "fast-movers" ready to take action now.
By the way, the guys over at Zapable were kind enough to offer our readers a 75% discount, but there's a catch. There are a limited number of spots in the launch so if you're ready to create impressive, powerful apps, do it quickly, and then sell them to business owners who needed them yesterday, click here now: Zapable.