Prezentar: instant presentation (and video presentation) tool #ad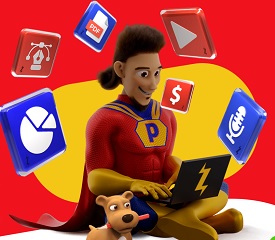 Prezentar was just re-released.
Why should you care? It doesn't matter what business you're in, or what niche you're in. Sooner or later, you're going to be creating slides, videos, webinars, Video Sales Letters ("VSLs") or online courses, and you're going to find that it's harder than it looks.
You can spend hours trying to get the right colors and formatting.
And, too often, you're still left with an amateurish look and outdated design that will turn off your audience, resulting in lost sales and bad reviews.
And the worst part is, you have done your best and have probably invested a lot in stock images, PowerPoint plugins, graphics packages, and custom fonts to get the job done.
When this happens, you may try getting a professional presentation specialist on Fiverr, Upwork, etc. to fix your presentation or start from scratch.
That causes additional expense and additional delays.
It doesn't have to be this way.
Prezentar to the rescue.
This presentation creator software makes presentations easier than ever before.
And there are no monthly fees.
• All the graphics and images are built into the software.
• And seriously, it may be one of the easiest presentation tools you have ever seen.
• And it turns your presentations into videos and PDFs, as well.
See for yourself, right here: Prezentar.
Whatever you need to create, its professionally designed, ready-made templates, and simple control panel make it easier than ever to create a presentation that gets the attention and response you need.
Here's a quick rundown of what you get:
✅ 50 ready-made, fully customizable presentations
✅ Custom branding (add your own logo)
✅ Super simple drag-and-drop editor
✅ 500+ Google fonts
✅ Hot Animation FX
✅ 8000+ Stock images
✅ 250+ HD Slide Backgrounds
✅ 2000+ Web Icons
✅ Social media sharing to FB, Twitter, LinkedIn, etc.
✅ Built-in audio recorder and music studio
✅ Export to PDF, HTML, and Video
✅ No monthly subscriptions (unlike other popular presentation software)
Now you can create modern, professional presentations and export them to videos in minutes with Prezentar.
This software is on sale for a week for a remarkable discount, but for our readers, we have a coupon that will dramatically reduce the price even more: secret66
Get the best price during the special launch underway now when you use our coupon: Prezentar.
---
---
James Renouf just released fascinating powerful AI software called AI Clone. It will create videos of people speaking your message. Here's one he created of himself using this new tool. Remember this is not live; it's AI-generated. So you can clone yourself with AI Clone and have your virtual self speak all your sales messages […]