VideoCreator: No Ordinary Video App (Earlybird Discount) #ad
Paul Ponna has released his latest video tool, VideoCreator.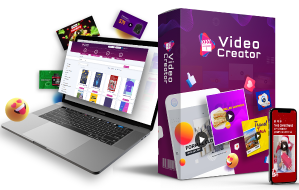 This new SaaS application comes loaded with first-to-market (i.e., never seen before except in Hollywood and Fortune 500 corporations) video technologies:
* Local Business Videos featuring Real Human Actors
* Pattern-Interrupt Scroll Stoppers
* 3D Video Flipbooks
* Big-Budget Corporate-style Commercials
* Profit Boosting 3D E-commerce and Product Demos
* Immersive 360 Degree Animations
Imagine creating big-budget animated videos like the Fortune 500 companies and doing it without any expensive freelancers, complicated apps or high-end video equipment.
Better yet, imagine selling videos you create for a hefty fee.
All that is possible, starting now, with VideoCreator.
For simplicity, there's no longer any need for multiple apps. This new software has been designed so that you can create any style of video from one simple dashboard:
✓ Explainer videos,
✓ Animated videos,
✓ E-commerce videos,
✓ Logo reveals,
✓ Videos for social media,
✓ Whiteboard videos,
✓ Live action videos,
✓ Real estate videos,
✓ Video ads,
✓ Animated videos and,
✓ A whole lot more.
Check out this software at work:
VideoCreator is unlike anything you have seen before because it can create world-class videos in all sizes, languages and topics.
Whatever you are marketing, it can give you the video you need.
On top of that, you can sell your video services on freelance sites because you receive a commercial license.
With VideoCreator, you can turn your ideas into hyper realistic next-gen animated videos in minutes.
Ponna promises that anything you can imagine you can create in minutes from the dashboard. Forget any other video software you have.
Here are the 3 easy steps:
1. Select from an ever-growing library of hundreds of professional video templates from all of the trending topics and categories.
2. Customize with your selection of images, videos, and text.
3. Render spectacular animated videos in minutes with zero technical experience.
This is a perfect choice for e-commerce sites, authors, realtors, local businesses, freelancers, affiliate marketers, Bloggers, Teachers, or anyone else looking to create videos faster and easier than ever.
Don't delay; the price is rising.
We have collected a set of impressive bonuses for our readers who invest in this new video creation tool: : Video Creator Bonuses for IM NewsWatch Readers.
These bonuses are worth more than the small investment required to get started (during launch week, especially.)
Don't delay. There is an early bird discount, but the cost is rising soon. Get your copy here: VideoCreator.