Content Gorilla AI 2.0: write like Tony Robbins, Frank Kern, etc. #ad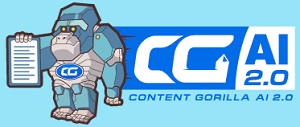 Content Gorilla AI 2.0 lets you get higher rankings on search engines by content marketing.
The more high-quality content your site has, the higher your rankings in Google, Bing, etc. Content Gorilla AI 2.0 makes content writing easy.
That's good because creating & marketing content consistently isn't an easy job for most of us. Especially if you are trying to write authoritatively as other influencers do.
This new tool is "smart" enough to phrase its output in the way that well-known influential people might phrase it. This is its A.I. Content Paraphraser. It helps you rewrite your selected content in the voice and style of known experts in your niche, people like Tony Robbins, Ryan Deiss, Frank Kern, Grant Cardone, or Dean Graziosi.
We here at IM NewsWatch write hundreds of words of marketing content every day, probably more than any of our readers do, but it takes time, energy, and creativity. And sometimes when we are wrapping up late at night, we wish it would be easier.
Even with our experience, it would be good to create a first draft quickly and spend our time polishing it. Even we would have a use for Content Gorilla AI 2.0.
If you aren't an experienced, confident writer, just think what it could do for you.
This app works in 3 simple steps:
Start with text or a YouTube (or Vimeo) video to curate content from.
Combine it with A.I. to create new inspired content (or paraphrase already written content), and
Publish it and automate your marketing to social media (via the app)
You can see how this would save you loads of time. But we advise that you use it as we would, to create your first draft; then polish it yourself so it sounds like you.
See the powerful automation it can provide you:
Artificial Intelligent Content Writing: Select a sentence of content that Content Gorilla AI fetches from your selected YouTube video and enhance it using our new AI-powered automated writing.
Artificial Intelligent Content Paraphrasing: Content spinners are old fashioned – use Content Gorilla's AI-powered paraphraser that will rewrite your selected content in 1 click – it's as good as if a professional content writer did it for you.
Content Calendar: Keep track of all your upcoming and previously posted blog & social media content. Schedule your content days in advance to stay ahead of the competition.
Moneyphrasing: Hyperlink specific keywords (or phrases) in all published articles on one/all of your websites.
SEO scoring (for headline & content): Content Gorilla AI will score your content out of 100 based on various ranking factors that search engines like Google use. These include keyword density, content optimization, and more.
Flexible Search: Search and create content in 105 languages
Deep Search Filters: Sort search results by relevance, recency, or views and find videos with creative commons license.
Quick Convert: In just one click, Content Gorilla AI converts any video of your choice into a fully formatted piece of content.
Correct Grammar Mistakes: 1-click correct any grammatical errors in your content using our built-in grammar correction tool.
Auto Punctuator: Using our AI-powered punctuator you can in just one click add punctuation (commas, full stops, capitalizations, apostrophes) to this kind of content.
Find & Replace: replace a specific word with a click.
Auto Images: Content Gorilla AI automatically adds images relevant to your content inside the extracted text.
Featured Image: The YouTube video thumbnail automatically gets set as the featured image on your WordPress post.
Post Tags: Content Gorilla AI automatically converts tags from your videos into post tags that will go automatically to your blog to tell Google what keywords your content should rank for.
Social Content Syndication: Publish your Content Gorilla AI-made posts to your Twitter accounts & LinkedIn Profile/Page in just one click and drive traffic back to your site.
Social Post Image Builder: using Content Gorilla AI's image creator you can create custom images to accompany your social media posts.
Internal Linking: Content Gorilla AI automatically searches your blog for posts related to the one you're just about to create and when it finds something related, it automatically adds a link at the bottom of your post so your visitors will stay on your blogs longer.
Download The Content: In one click, download your content in text or PDF format and publish it wherever you want and however you want.
Quick Multi-Post: Select as many videos as you want to publish – define a time interval between posts and let Content Gorilla AI take care of the rest.
Bulk Poster: Create content for up to 10 days and let Content Gorilla AI handle all the hassle – simply define what keywords you want the content for and how many intervaldays you want between the posts, Content Gorilla AI will automatically schedule all your content for you for the next 10 days.
Post Archive: Here you will find all the posts ever created to your sites with Content Gorilla AI.
Check out Content Gorilla AI 2.0. Grab Your Copy Today: Content Gorilla AI 2.0.
---
---
Conductor is hosting a webinar 'Boosting your Content Creation with AI: Opportunities and Challenges' on Thursday, June 22, 2023. The Conductor team says, "Discover how AI can take your content writing to the next level in our upcoming webinar. Join us as we dive into the exciting opportunities of AI-powered content creation, and how to […]