UpViral: Free Viral Traffic to your sites, funnels, landing pages #ad
If there is one thing your business can't survive without, it's qualified leads. UpViral has you covered.
Normally, collecting leads through ads is expensive, and may not give you the results you want.
Even worse, after you pay, you end up with fake (and thus, worthless) email addresses,
And that means you may on lead gen with little to show for it.
UpViral is a better, faster, easier, and much cheaper way to receive almost unlimited leads for your business.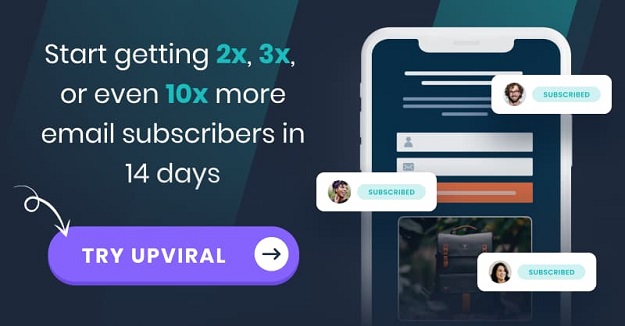 The secret to effective and economical lead generation is referral marketing.
Here's how it works:
To receive your lead gen gift, a new subscriber must refer their friends to your offer.
If enough of their friends sign up, the original subscriber receives the gift.
The beauty of referral marketing is that you can create variations to build interest, such as sweepstakes, milestone campaigns, viral newsletters, pre-launch waiting lists and more.
Unfortunately, the technical aspects of running one of these campaigns isn't always easy.
The good news is that UpViral makes pulling off a referral marketing campaign easy, because it includes both graphic and email templates.
And we have scored a $1 trial for you to test it out and see if it makes sense for your business.
Check it out now: UpViral.
The results people have been seeing with UpViral are impressive.
One beta tester netted 16,000+ subscribers in just four days, and he's still adding many new subscribers each day.
Best of all, these kinds of results are happening with virtually no advertising.
It's all about viral marketing, by leveraging social media like Facebook and Twitter.
Take a moment right now and find out just how easy it is to get your visitors, Facebook fans, and subscribers to send more people to you.
Wilco De Kreij, the publisher of this new software, says it will change the way you do marketing forever.
Consider these possibilities when you use this viral marketing tool:
• Run Viral Giveaway Campaigns – Get your visitors to deliver more visitors by incentivizing them with a goodie or a prize.
• Run Viral Contests – use a cool contest to promote your site, service or product via Facebook and Twitter, You can set it up in minutes.
• Generate Tons of Viral Traffic to Your Launch – If you're launching a new product or service this is just what you need. Get a substantial number of leads – with little or no advertising.
UpViral is easy to use and plugs right into your existing sites and pages, you really won't believe how easy it is get your first campaign up and running!
Do yourself a favor:Watch the Demo.
There is simply no better way to take your traffic generation and marketing to the next level than viral marketing.
So if you're serious about increasing your traffic and your profits, then seriously, pay close attention…
No other app on the market comes close to what UpViral does, at any price.
And speaking of price, it's currently available for a deep introductory discount, but you need to move fast.
Do yourself a favor. Go check it out now: UpViral.
---
---
GiveSites Pro is a brand new creator app that builds a 1-click self-updating giveaway site. It comes with giant 90,000+ premium gifts that you can give away. It lets you build a giveaway site without any coding or designing skills. Using it, even new marketers can offer limitless giveaways like coupons, training courses, gift cards, […]