What is Content Gorilla AI 2.0? #ad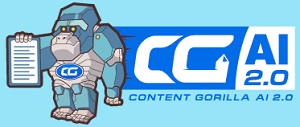 Neil Napier will release Content Gorilla AI 2.0, the fourth generation of a content creation tool, at 11:00 EDT today.
It is a cloud-based app that offers a simple and effective way to transform any YouTube video, Vimeo video, or your own video into stunning, one or more AI-enhanced blog posts in just 60 seconds.
Napier will demonstrate this new version of the system live on a free call today at 10 AM EDT/NY. You can book your slot here: Content Gorilla AI Training.
During this free call, Napier will show you how to:
➤ Create content on demand easily,
➤ Write content in anyone's voice (including influencers),
➤ Rank content on Google in under 2 minutes,
➤ Monetize content and make a side income online, and
➤ Increase profits by up to 50% with a small change.
There will also be a Q&A session at the end where you can ask Neil any doubts you might have about the new technique you'll be learning.
Seats for this free call will fill up fast, so make sure you register now show up at 10 AM ET/NY. There may not be a replay, so don't miss out on the chance to chat live with Neil.
By the way, there will be a free copy of Content Gorilla AI 2.0 given away on the webinar.
With Content Gorilla AI 2.0, you can create fully-formatted blog posts that are packed with relevant content and designed to drive clicks and sales.
In addition to the powerful content creation features, Napier's team has also included several advanced blogging tools to help you improve your Google ranking, including A.I. content detection.
You will probably find all the details you need here: Content Gorilla AI 2.0, but if you need more details, check this resource out:
Knowledge Base – https://support.contentgorilla.co/support/solutions
If you have any of the earlier versions, you will be interested in the "What's NEW" Demo Video – https://vimeo.com/808248029
The earlier versions have been big successes. You may already be using one. If so, you may have a special discount coming to you. Here's how it works:
#1 – all PRO users with an active subscription, will get the basic version of Content Gorilla AI 2.0 for absolutely free. This includes all the new features of Content Gorilla A.I with a 20,000 words generation/paraphrasing limit.
#2 – If you are any other Content Gorilla 1.0, 2.0 or AI users (including Agency), then you will need to upgrade to Content Gorilla AI 2.0 in order to get the new features.
#3 – If you have an agency version and would like to offer the new Content Gorilla to your agency customers, you will need to upgrade to Content Gorilla A.I 2.0's agency account. Again, you get a 50% discount on the upgrade.
To get your upgrade discount, use the coupons will be revealed inside the current version of the app.
If you miss the webinar, go here to learn all about this powerful new marketing tool: Content Gorilla AI 2.0.
---
---
Conductor is hosting a webinar 'Boosting your Content Creation with AI: Opportunities and Challenges' on Thursday, June 22, 2023. The Conductor team says, "Discover how AI can take your content writing to the next level in our upcoming webinar. Join us as we dive into the exciting opportunities of AI-powered content creation, and how to […]