The Proving Ground: Review of Spin Rewriter
IM NewsWatch has taken Spin Rewriter to the proving ground. This is the result of our testing.
First released in 2011 and improved every year since then, Spin Rewriter has become the most popular and most advanced text spinner available to small- and medium-sized online marketers. We place this limitation on the claim since major corporations could, in theory, create a content spinner for themselves that isn't released to the public.
We bought a lifetime license, and we are using it to do this testing.
To use this tool (which is currently available for a 5-day free trial), after signing up and logging in, you are taken to the member's home, where you select either Rewrite a single article or Rewrite multiple articles.
.
For review purposes, we selected Rewrite a single article and used the first two paragraphs of this review as our sample text.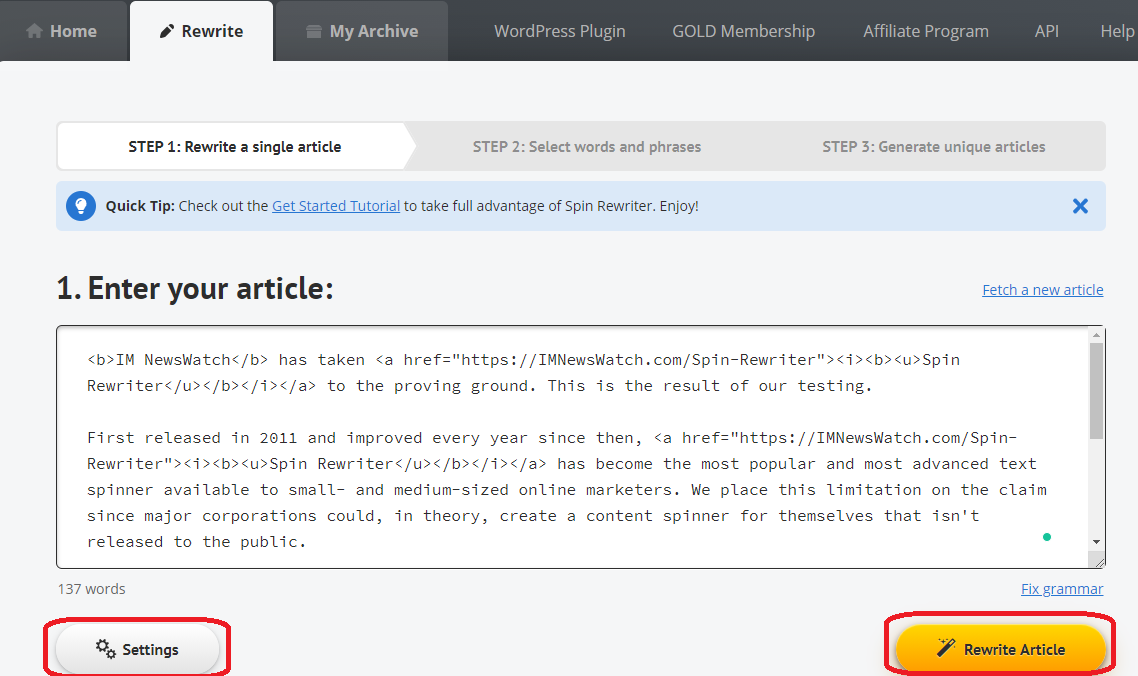 One thing you may want to do before proceeding: you are given several settings you can customize (at first, you probably experiment with the various settings until you find the ones that work best for you.)
There are three pages of settings, but the ones that seem most important to us are the two on this page.
First, you can select how careful you want Spin Rewriter to be in choosing synonyms to use. The more careful you are, the fewer it will use and the fewer (and the better) versions of the article it can create.
The second setting is a list of words you don't want it to spin. That's important. For example, we don't want it to spin "Spin Rewriter" since the name of the product should be left alone. So should URLs. There are several other phrases that also shouldn't be changed.
Your next step is to paste your content into the field provided and click Rewrite Article. When you do, it searches its database of synonyms and builds a "prototype" (that's my word) article that includes all the synonyms it found. This is the foundation for the actual spinning it does next. See the blue text in this output for the synonym processing it did.
As you can see, there are quite a few variations that it found for many phrases.
The next step is to click the Finalize Article. button, which saves this prototype article for later use. Once it is saved, you can now create virtually as many versions as you like. When you click the Generate a Unique Article button, it will process the prototype, selecting one of the synonyms for each variable term and present the result to you.
Click the button over and over to get as many versions – each unique – as you want (for pasting into different social media accounts, for example.)
Copy the text created and it's ready to paste into an email, a web page, a social media post, etc.
However, we should warn you that it isn't perfect. It is a machine, not an English teacher. Here is the spun output for our test text. When you read through, you will see that a few edits are needed.
IM NewsWatch has actually taken Spin Rewriter to the proving ground. This is the outcome of our screening.

Initial released in 2011 and enhanced each year ever since, Spin Rewriter has actually come to be one of the most prominent and most sophisticated text spinner available to little- as well as medium-sized on-line marketing experts. We put this constraint on the insurance claim considering that significant firms could, theoretically, create a material rewriter for themselves that isn't launched to the public.
So our assessment is that:
1. It is easy to use. The large synonym dictionary saves you from having to choose synonyms yourself. That means, for example, even if you only plan to have a single version of your content, you could pass it through the spinning process to see if it finds more colorful phrasing that could improve your writing.
2. By varying the settings you use, you will get many different results; it is very flexible.
3. We would always read its output before using it. Most of it will sound like good English, but once in a while, it misunderstands a word or phrase and gives a poor substitution. For example, we wrote, "First released in 2011". It interpreted "First" as an adjective, and replaced it with "Initial". It's actually an adverb, so the replacement should have been "Initially released in 2011".
Our main use of Spin Rewriter will be for an initial edit of PLR material. This will save us time during our subsequent edit by a human. Combined, these two processes should give us content that is both unique and readable.
We are happy with our lifetime license. We plan to use it regularly. We encourage you to at least get the free 5-day trial to try it out.
Proving Ground Verdict: Approved. All marketers, beginners and experienced alike, who have a need for multiple versions of textual content will find this to be a good investment.
You can pick up a copy here: Spin Rewriter
Please Note: This is intended to be an unbiased review. Nevertheless, IM NewsWatch will receive a commission if you buy using a link in this article.
Also by the way, when you buy from our link, you will receive the bonuses we mention here: Spin Rewriter: Unique text wins the day (free trial) #ad.