Avatar Builder: Powerful AI 3D Animation Video Maker #ad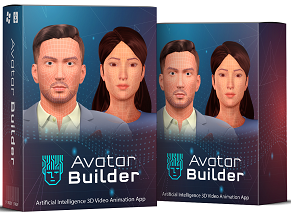 Today, at 3 PM EST, Paul Ponna is releasing his new animation software: Avatar Builder.
This new video creation tool has incorporated three crucial technologies needed for effective animated marketing videos:
■ 3D Animation,
■ Artificial Intelligence,
■ Automated soundtracks in any language
Together, these technologies allow you to create natural-looking and natural-sounding 3D animated presenters, and to do so without any technical skills.
As we mentioned yesterday, prior to the release, at 2 PM EST, he is holding a webinar to show off what this new tool can do for you.
Introductory Webinar
To make this webinar extra-special, during the webinar they are giving away special prizes:
➤ 20 copies of Avatar Builder will be given away.
➤ 10 $100 Prizes will be handed out to webinar attendees.
➤ Other Bonuses will also be distributed.
➤ A Facebook Group that will give you access to $3000 in additional rewards.
➤ Step-by-Step Training.
➤ Live Avatar Builder Case Studies and a Demonstration.
The star of that webinar is Avatar Builder.
Using its futuristic 3D animation, artificial intelligence, and multilingual video technologies, you can customize and create your own Hollywood-style talking 3D avatars with your choice of hairstyle, colors, and branding and get them to speak anything you want in precise lip-sync with your message.
Benefits of this New Video Technology
This is the first of its kind "multi-purpose" video technology loaded with industry-leading features never available before:
★ Hollywood-Style Customizable "Talking 3D Spokespersons"
★ Artificial Intelligence-based Smart Scene Builder
★ Dynamic Scene Transitions and Animations
★ Thousands of Ready-Made Video Templates
★ Accurate Speech-To-Text Transcription
★ Hundreds of Natural Sounding Text-to-speech Voices
★ Next-Gen Logo Mapping To Brand Avatars
★ Millions of Video, Image & Music Assets
★ Watermarks, if you want to stop copying
★ Unlimited Video Renderings
★ Commercial License so you can sell your videos to clients
Bonuses for IM NewsWatch Readers
We have arranged that our readers who invest in Avatar Builder will also receive these bonuses:
Ecom Video Maker – Commercial License
Use this powerful video maker app to create "conversion tested" e-commerce videos using ready-made video templates that are designed to get more traffic and sales to any e-commerce business.
It includes a commercial license so you can create videos for your clients and run them as Facebook ads, YouTube ads, and any other social media platform.
Done-For-You AvatarBuilder Video Agency Website
Want to sell the videos you create with AvatarBuilder (or any other video app) for top dollar online?
Use this professionally designed "done-for-you" agency website to look like an authority to charge more for your services.
The site is ready with professional copywriting geared to convert your prospects into customers.
21 Day AvatarBuilder Video Mentorship Training
21 days of intense training. These workshops will build your expertise. Participate if you want to get the best results from your AvatarBuilder videos (or from any other video app you own.)
Artificial Intelligence Logo Creator
The unique built-in "artificial intelligence" engine automatically finds the relevant icons, images, and fonts and then generates dozens of variations of your logos in minutes. Select the one you like and download.
Perfectly integrates with AvatarBuilder. Just import a logo created by the AI Logo Creator into AvatarBuilder and add it to your video templates. Save money and time, you never have to pay a designer to create logos ever again.
Video Thumbnail Maker
Use these thumbnail graphics to attract more customers to your videos and boost traffic, leads, and sales. Perfect to get more results with the video you create with AvatarBuilder.
AvatarBuilder Success Case Studies
Get instant access to case studies of other users who have been using AvatarBuilder to maximize their revenues, leads, and sales.
Apply these strategies in your own business to get started quickly and successfully.
Royalty-Free Music Tracks
Use this royalty-free music library that integrates with AvatarBuilder to spice up your videos.
Skype Mentorship Group Access
You are invited to this private Skype mentorship group to interact, learn, network, and thrive alongside hundreds of other like-minded online entrepreneurs who all share your passion for building and growing a successful business.
Weekly training, additional bonuses, and free software giveaways are planned for this private skype group.
HD Stock Video Bundle
Use the HD stock videos and backgrounds in this huge collection as ingredients in your own videos. You can upload these videos into the AvatarBuilder app or other video app you may have and use them in your videos.
Done-For-You Call-To-Action Human Voiceovers & Video Sales Scripts
Use these additional 22 professional call-to-action voices in your AvatarBuilder videos for closing the sale.
No longer do you need to pay a copywriter to write video scripts for you. Simply customize these scripts to meet your needs. You can create highly engaging sales scripts for your videos to improve your leads, your conversions, and your sales.
Be first in line for this powerful software. If you can attend the webinar, do. If not, get the software at 3 PM here: Avatar Builder.