"Rapid Profits" Webinar tonight at 9:00; Thornhill & Martin #ad
First of all, Happy Thanksgiving to our American friends. Enjoy the day. We will.
Rapid Profits can make your whole year happier.
We will be enjoying family gatherings along with many millions of other Americans. We are looking forward to it. Some will have vegetarian meals; some will have turkey; some will have ham; all will have joyful gatherings, we hope.
But after today, we go back to living our everyday lives. How happy will we make these lives? Building our online businesses is key to providing our families with what they need to thrive and be happy.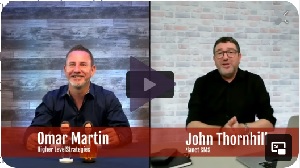 At the end of the day today, there is an opportunity you won't want to miss, giving you valuable information for building your online business future.
John Thornhill and Omar Martin will be talking about how they succeeded online and how they can help you to succeed, as well.
You need to be on this call today because tomorrow (Black Friday) is the biggest sales day of the year, and Thornhill and Martin are having a massive Black Friday sale. By attending their webinar, you will get an extra discount on the sale.
DATE: TODAY November 24th, 2022
TIME: 9:00 PM Eastern
REGISTER HERE: Rapid Profits Webinar
There are a lot of colorful people in the online space nowadays. You see them on Facebook and YouTube promoting their latest wares and schemes.
Very few of them pass the test of time.
You can be assured that Omar Martin and John Thornhill are the real deal. Now, for the first time ever, the teacher (John) and his most successful student (Omar) have teamed up to bring you a rock-solid, proven system that you can put into practice today.
They have been online marketers since the early 2000s (Thornhill was earlier than Martin, of course) and they have helped some of the biggest names in the business get where they are today.
You can learn a lot from them, even by just attending the webinar. Study the campaign they are about to run for Black Friday because few marketers do it better.
They will be running their biggest sale of the year tomorrow, following this early bird webinar tonight.
Here are the 4 reasons why you need to be on this Webinar:
1. Thornhill and Martin develop excellent software and training products for online businesses like yours (and ours, for that matter. We have invested in several products from each of them.)
2. They're going to show you how to create multiple income streams in your business.
3. You're going to get a sneak peek at the products in their Black Friday Sale package.
4. You'll get a FREE discount coupon that even further discounts the 99% OFF everyone will get tomorrow.
Don't get left out. You need to see how these guys sell their stuff. You will discover how to run a sales webinar.
p.s. – fair warning… there will not be a replay for this webinar.
Go here now to sign up to attend: Rapid Profits