SurvAI: Neil Napier's secret sauce for online success; free webinar #ad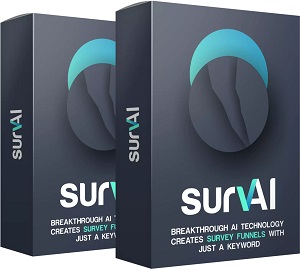 Techniques of good online marketing have evolved over the last 20 years. SurvAI is on the forefront of the most modern methods.
If you haven't been as successful online as you had hoped, maybe your problem is that you haven't been listening to the right mentors and have gone down some blind alleys.
You could benefit from an experienced coach to guide you. Someone who has gone from basically nothing to a thriving seven-figure online business in just a few years.
That's the kind of experience Neil Napier has, and he's willing to share some of his best techniques developed in his latest project.
Napier has been online for many years, now, and he knows which trend is coming on strong and will continue to provide significant results throughout 2022: growing your buyers list and offering that service to clients as well through the use of AI-generated surveys.
Surveys have been around for over 100 years, and there's a reason for their long life: they work to get people engaged and thinking about problems that need to be solved. As a result, you are getting attention (and ultimately, sales) from people interested in your solutions, people who are targeted buyers who tell you exactly what they are looking for.
When you build a mailing list of this kind of customer, you can sell to them over and over. Every time you do, you are one step towards true financial freedom online.
Napier is offering a free webinar tomorrow where he explains his new product, SurvAI, and the whole new approach to using AI generated surveys to grow a buyers list.
Join him as he gives you a sneak peek into this amazing software on Tuesday, May 10, at 10 AM ET/NY.
Register now for thie training to watch as he shows you how this new software can build your engagement with customers and potential customers: SurvAI Training.
In addition to the training on how to use surveys in your marketing, Napier will be offering these opportunities on the call:
✓ WIN a free copy of the software
✓ LOCK-IN exclusive bonuses he says are worth thousands
✓ GRAB the EARLY BIRD Discount
On the call Neil will show you how to leverage SurvAI's custom AI engine technology to create top quality surveys without actually having to be creative or even a good writer.
Don't miss this call if you seriously want to break free and live the life you were meant to live.
Register here before all the seats are booked: SurvAI.
There's not going to be a replay so sign up now and be there on time.
It could be the first step you take to true independence in your life.