AvatarBuilder video software launch ending at midnight #ad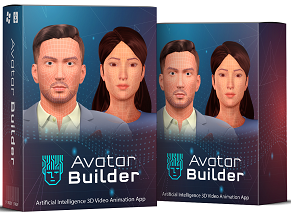 Today, the launch pricing for Avatar Builder is ending at midnight. If you need video to market your products or services, this is your last chance to get the introductory pricing. The price will rise significantly after today.
We have mentioned this new software several times in the last week. It lets you build animated videos with 3D characters for use in any of your marketing or, if you wish, you may sell your videos to clients to assist them in their marketing.
For the first time ever, you can take advantage of video creation software that merges 3D Animation, Artificial Intelligence, and Multilingual Video capability, all in service to your marketing needs.
Powerful Video Creation Features
Avatar Builder includes 50 Industry-leading Features Such As:
➤ Hollywood-Style Customizable "Talking 3D Spokespersons"
➤ World's First Custom 3D Avatar Builder
➤ Artificial Intelligence Smart Scene Creator
➤ Thousands of Ready-Made Video Templates
➤ Hundreds of Natural Sounding Text-to-speech Voices
➤ Accurate Speech-To-Text Transcription
➤ Next-Gen Logo Mapping To Brand your Avatars
➤ Drag-and-Drop Mockup Video Builder
➤ Dynamic Scene Transitions & Animations
➤ Ability To Add Watermarks & Backgrounds
➤ Millions of Video, Image & Music Assets
➤ Unlimited Videos Renders
➤ Commercial License allowing yu to resell your videos
➤ and a whole lot more.
And the best part is, there are no limits:
✅ Unlimited Video Renders
✅ Unlimited Usage of All Features
✅ Unlimited Text-To-Speech
You get all this with No Monthly or Yearly Fees Ever; Just A One-Time Payment.
Check it out here: Avatar Builder.
Over 13,000 licenses to this software and its upgraded versions have been sold. Your fellow marketers know a good thing when they see it.
Nothing like this is available in the market for small businesses and individuals.
Bonuses Expire, Too
When the launch ends at midnight, the bonuses also expire.
Bonus 1: Ecom Video Maker – Commercial License
Bonus 2: Done-For-You AvatarBuilder Video Agency Website
Bonus 3: 21 Day AvatarBuilder Video Mentorship Training
Bonus 4: Artificial Intelligence Logo Creator
Bonus 5: Video Thumbnail Maker App
Bonus 6: AvatarBuilder Success Case Studies
Bonus 7: Royalty-Free Music Tracks
Bonus 8: Skype Mentorship Group Access
Bonus 9: HD Stock Video Bundle
Bonus 10: Done-For-You Call-To-Action Human Voiceovers & Video Sales Scripts
Get AvatarBuilder Now. Price Increases and Bonuses Close Tonight: Avatar Builder.