Ezy MultiStores – Take the guesswork out of e-commerce #ad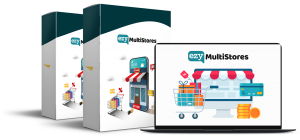 Ezy MultiStores was just released by Victory Akpos.
This new store builder is a SaaS (cloud-based) platform you can use to quickly create "eCommerce Affiliate Stores". Quickly? Yes, Akpos says, "in 60 seconds."
The process doesn't require the usual API credential approval. Ezy MultiStores has it all covered.
And there's nothing to install. It is a completely Plug-and-Play system. You don't even need a website.
In your Ezy MultiStores, you can sell up to 1000 products of your choice, products from Amazon, Walmart, Ebay, Bestbuy & Aliexpress, and you earn an affiliate commission for each product you sell.
Your stores can get free traffic from both Facebook and Twitter; it's built-in. Paying for ads is strictly optional.
Whenever you make a sale, you can add that buyer to your mailing list. Then you can market to them over and over.
Stores come in 8 styles, so you can choose the one that best fits your niche and the image you want to portray.
Ezy MultiStores has a built-in feature that allows you to auto-post to Facebook and Twitter when the price of an item drops or when an out-of-stock item is again available.
To give your stores richer content and to make them look professional, there is a built-in Video Content Engine that allows you to curate and auto-publish unlimited relevant product review videos available on Amazon.
And, it's not called "MultiStores" for nothing. You can create up to 50 stores in any niches you want. Need more? There's an upgrade for that.
There are a lot more features you need to see on their sales page. These stores are built with robust management information and control tools suitable for even making this your full-time profession if you choose.
And to top it off, we have arranged 3 VIP bonuses for IM NewsWatch readers:
VIP Bonus #1: A Reseller License to the best-selling OmniBlaster software
Your 'All-in-One' Marketing Platform That Helps Convert 3X More Visitors into Buyers and Drives More Sales by Combining email with SMS and Voice broadcasting. All from one platform.
No Hosting; Nothing to Install
VIP Bonus #2: Reseller License to best-selling DFY LeadFunnel software (Worth $297)
DFY Lead Funnel is a 3-in-one Funnel suite that helps you and your customers generate leads, nurture these leads, and market to them, with a built-in Viral Traffic System.
No Hosting; Nothing to Install
VIP Bonus #3: Reseller License to best-selling AlterStores
AlterStores allows you and your subscribers to quickly create High-Value "Affiliate Authority Stores" that automatically bring in traffic, build your list, and help you build your e-commerce business.
These bonuses are attractive, but you will be impressed even more by this new store builder. They seem to have thought of everything you might need for running e-commerce stores. Get the whole story here: Ezy MultiStores.
PS: The price is rising. Don't wait.