Using Social Media to Engage With Customers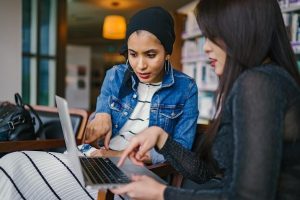 Image Source: Photo by Kaboompics .com from Pexels
Social media is a powerful tool. It literally offers a marketer the largest congregation of customers in the history of marketing. While countless businesses utilize social platforms to promote pay per click (PPC) ads, build brand awareness, and generate traffic to their sites, there's one essential aspect of social media marketing that should never be left out of the mix: engagement.
Forming a Social Media Engagement Strategy
From pictures on Pinterest to fraternizing on Facebook, and from stories on Instagram to text on Twitter, social media provides a plethora of ways to directly engage with your audience. However, if you want your business to truly benefit through social media engagement, you have to use the right methods to post the right kind of content on the right platforms.
In other words, you need to go into things with a strategy in place.
When it comes to social media engagement, in particular, there are many things to keep in mind. Here are a few of the most important things to consider as you formulate your social media engagement strategy.
Choose Your Platforms Wisely
Before you post anything, it's important to target the right audience and then identify what platforms that audience uses. For instance, Facebook is ideal for older demographics while TikTok and Instagram appeal to younger generations.
Once you've found your audience's preferred platforms, choose two or three of them to focus on. This will help you maintain a quality social presence in a couple of areas instead of spreading yourself too thin.
Learn to Engage
Once you have your platforms selected, it's time to develop a unique strategy for each platform. Study what content your audience is sharing, commenting on, and otherwise engaging with. It's also a good idea to look up several of your competitors' profiles and see what kind of posts are working best for them.
Once you've completed this research, you'll be equipped with the tools you need to effectively engage with your audience.
Engage to Learn
As you post, comment, share, and like social content with your customers, it's important to always maintain a learning attitude. You're not just there to inform and direct the conversation.
As you engage, strive to open up two-way communication that encourages feedback, thoughts, and opinions from your customers. In other words, actively listen to your audience.
Engage with a Purpose
There are many different strategies that can encourage customers to engage with your business. For instance, you can:
Set up a giveaway that is dependent on comments, likes, shares, and clicks.

Create a group or community that provides a sense of exclusivity, naturally encouraging interaction in the process.

Post questions that elicit a response from the reader.

Ask for opinions and feedback.
Whatever you do, as you craft your strategy, make sure to integrate interactivity that regularly encourages your customers to engage with your social media content.
Provide Customer Service
Social media doesn't just serve as an outreach and customer retention tool, it can also be an incredibly effective customer service platform. Rather than setting up an email account or phone line, direct customer service questions to your social media platform.
Then, answer your customer's questions. (A whopping one-third of customer complaints are never answered.)
This will naturally increase the engagement on your platform, and allow you to demonstrate your professionalism and respect for customer complaints and feedback for your entire social audience to see.
Track Your Results
Finally, always track your results as you go along. The modern world is absolutely data-driven, and you can use data that you collect to make informed decisions. There are many valuable pieces of data that can be gathered on social media, such as:
Your overall reach.

Number of mentions.

Clickthroughs to your site.

Comments, likes, and shares.
If you take the time to identify the metrics that matter most to you and then collect and analyze them on your social platforms it can go a long way in helping you to understand your customers' real-time behaviors and opinions.
Engage
From identifying the best platforms to strategizing your content, providing customer support, and ultimately collecting data to make informed decisions in the future, there are many benefits to engaging with customers on social media.
This effort to engage shouldn't be treated lightly, either. With so many companies vying for the precious attention of a finite pool of consumers, success is typically found when organizations are able to provide a high-quality social presence. This must include a focus on actively listening and engaging with individuals throughout the customer journey as they discover your business, learn about your products, make a purchase, and then seek support as they use your products and services.
If you can deliver an engaging social media experience, you'll be able to stand out from the white noise and both attract and retain customers, enabling you to stand head and shoulders above the competition.
Indiana Lee is a writer and journalist from the Pacific Northwest with a passion for covering business best practices, social justice, environmental protection, and more. In her off time, she enjoys hiking with her two dogs. You can follow her on Twitter @indianalee3, or reach her at [email protected]