Ads2List: Unlimited Leads From Google Lead-Gen Ads #ad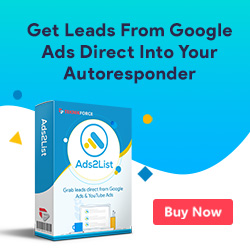 Ads2List is new software from the Teknkforce team, led by Cyril Gupta. It unlocks a Google marketing system that you've probably never used: Google Leadgen ads.
Google Leadgen ads are powerful, possibly more powerful than you've seen before. People sign up to your list by just clicking one button on Google or YouTube; no forms to fill in.
This is how Google's Leadgen ads work:
1. People see your ad, they click it, and they will be signed up into your autoresponder.
2. They don't need to fill their Email address. Google handles it automatically.
3. People are taken to your landing page after they sign up, not before.
So even before they go to your site you've already got them in your mailing list.
You can see how it would give a boost to your list building to have Google helping you.
When Google sends you a new lead, Ads2List feeds it directly to your autoresponders. That means that you can mail them right away.
This new professional marketing tool will:
► Connect your Google ads to Ads2List directly
► Connect to your favorite autoresponder (it supports all popular ones.)
► Add people into your autoresponder list whenever they sign up from your ad.
Once you turn it on, it will keep running and collecting names for as long as you want it to.
Think about the list-building power this gives you. It will possibly beat the results from every other list-building technique you have tried. Here's why:
1. One-click sign-up makes it easy for people. Low "friction" means more signups and that means more profits.
2. It's scalable. When you start getting clicks on your ad and see sales as a result, scale up your converting offer to grab many leads each day.
3. When you get a lead, immediately send them to your sales page to buy while they are most interested.
4. It's automatic – You set it up once and it just works. New people keep seeing your Google ad and keep signing up.
5. Your niche doesn't matter. Google has your target audience no matter what you're promoting.
6. Leadgen ads are still underused. They are still fresh, and your customers haven't been spammed by unscrupulous marketers.
Ads2List is going live at 11 AM EDT at a special sale price (a one-time charge.)
In the first few hours of the launch, it will have a special price for earlybirds.
After the launch sale, the price will go up, and it will also be sold only at a monthly recurring fee.
Don't let that happen to you. You can grandfather yourself in at a one-time price. Get in early to get the best price and not have to pay again.
Gupta has given us a collection of his software and said we can give it to any of our readers who invest in this new software. See them here Ads2List Bonuses.
Be ready at 11 AM EDT. That's when the earlybird sale starts, here: Ads2List.