MateStore: High Quality E-Commerce WordPress Theme #ad
Astroblu, the theme development company, has just released a new WordPress theme for eCommerce sites: MateStore.
If you want to sell products from your site, either as a product developer or as an affiliate, consider this new theme.
MateStore lets you display up to 30 Pages of your products. It has 52 useful shortcodes built in, and a Drag & Drop Page Builder with Seamless Instant Actions Technology.
This means you can now create almost any kind of E-Commerce Sites, including Amazon or eBay affiliate sites for your online marketing. There is an upgrade that lets you build unlimited sites for clients, too.
It is flexible, able to accommodate nearly any imaginable design, and absolutely no coding skills are needed.
This theme has been designed for you, whether you (or, with upgrade, your client) is:
► A Business Owner,
► An Online Marketer,
► A Drop Shipper,
► A Shop Owner,
► A Blogger who just wants to place ads on the blog,
► An Offline merchant,
► An online seller of any kind.
With the help of Astroblu, we are offering our readers, at no extra charge, these bonuses:
Bonus #1 : GMap For WordPress (with resell rights)
Bonus #2 : Facebook Lead Capture Plugin
Bonus #3 : Graphics Blackfizz
Bonus #4 : WP Inbox Monster
Bonus #5 : Graphics Neoma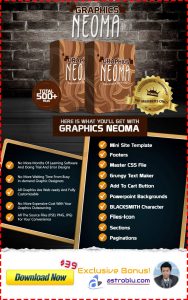 Bonus #6 : Magazine-style WordPress theme (v2) (with Developer Rights)
Bonus #7 : WP Second-chance Plugin (updated) (with resell rights)
Bonus #8 : Backlinks Analyzer (with PLR rights, so you can rename and resell)
You can have your store up and running quickly with this new theme. Get it here (please do it now; the price is rising): MateStore.