CoreSEO: Gain Google's trust to improve, protect your ranking #ad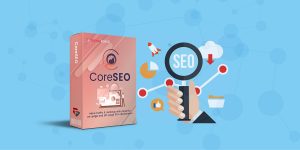 Google is important to online marketers. There's no question about it. If your site and the marketing you do for your site bug Google, your sales will suffer. If you play according to Google's rules, your sales will improve.
What does it take to get Google to like your site? More than it did 10 years ago. For one thing, branding and user experience are becoming increasingly important for Google.
If your site isn't set up only as a store for goods people are already seeking, you have to offer more than just good content and technical infrastructure that is easy for Google to crawl.
One of the key investments for savvy website owners today is in building their brand and their expertise in a topic-based niche so that users and Google trust the site.
After the recent Google core update it becomes all the more important to provide users with content throughout your site that makes them trust you and keep coming back for more. This is the kind of content that gets visitors to refer their friends to your site, bringing you traffic and improved rankings on Google.
Ranking in the Google search engine results pages can't be improved by trying to work against or around Google's ranking algorithm. Google is smarter than you; it has more engineers, psychologists and programmers than you; and it has nearly unlimited computing power to see through all your sneaky tricks.
So, you need to use their algorithm to your advantage.
CoreSEO will solve this challenge for you. It just went live yesterday, and it still has a discount price.
It takes into account every single Google algorithm update throughout history that affects your site rankings: Panda, Penguin, Hummingbird, Rankbrain and now Google Core.
Cyril Gupta, the leader of the Jeet Marketing Team reports that in just 3 simple steps CoreSEO will put you on top of your content game to win Google's love:
Step 1 – It Shows You What Google Wants You to Improve
Step 2 – It Makes Those Fixes in an Instant
Step 3 – You just Sit Back and Watch Google Raise Your Ranking
CoreSEO will power your rise to the top of Google with 100% ethical, Google-friendly SEO.
It accomplishes all this though Deep On-Page & Off-Page Analysis. – It audits both your own website and the backlinks pointing to your site from other sites.
In this audit, it checks every factor Google uses to determine your rankings.
For example, it performs over 30 tests on each backlink because unnatural backlinks get a site demoted almost overnight. CoreSEO will verify all your backlinks against over 30 quality check parameters, making sure that no bad backlink survives.
It also performs over 40 Checks on the pages of your site, checking for things that could potentially be dragging your rankings down.
CoreSEO automatic disavows bad backlinks, to let you escape for demerits they have given your site.
When done, it creates a Google-compatible Disavow file that you can submit to Google and avoid bad link penalties, and all you have to do is click to send it.
It doesn't matter what ind of site you have, it works for all sites. Just type the URL, and turn it loose.
CoreSEO is so easy to use that even beginners with no tech skills will be able to use it effectively. No need to be an SEO wizard.
If you had to pay a human expert, this audit would be expensive. With this software, anyone can afford it.
CoreSEO launch pricing and launch bonuses available
See it for yourself (and see the bonuses we are offering to our readers who invest in this product) here: CoreSEO.